Visa® Debit Card
A convenient way to get cash, shop, and earn HVCU Rewards!
Your checking account isn't complete until your request your free HVCU Visa Debit card. Not only is it convenient for getting cash and making purchases, it entitles you to extra checking benefits and earns you HVCU Rewards! points as you spend.
Use your card worldwide to shop online, in stores, or by phone – anywhere Visa is accepted.
Simplified shopping when you add your card to your mobile wallet.
HVCU Rewards!
Earn points through
HVCU Rewards!
when you use your Visa Debit Card for credit (signature-based) transactions—one point for every five dollars spent
1
,
2
on qualified credit purchases that can be redeemed online for merchandise, travel, gift cards, cash back credit, and charitable donations and more.
3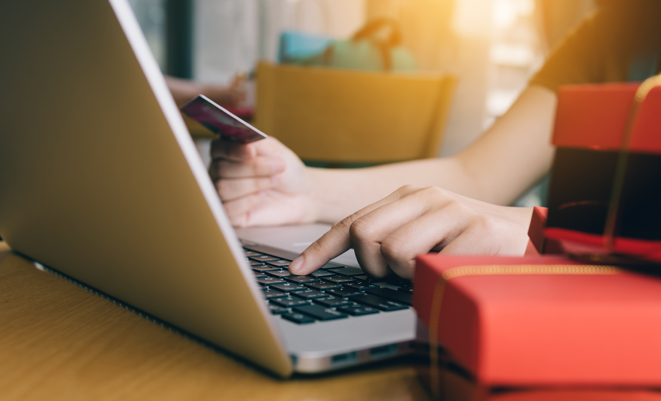 Cash When You Need It

Use your card for HVCU ATM and nationwide network ATM access including over 85,000+ surcharge-free ATMs.
Getting extra cash is easy with cash back option using your PIN at point of sale (POS) locations, such as gas stations, grocery stores, etc. These transactions are fee-free with funds withdrawn from your primary checking account. POS transactions are covered by overdraft protection.
Transaction limitations for purchases and cash withdrawals at participating Visa financial institutions and merchants are as follows:

Point of sale (POS) PIN transactions – Up to $1,000 per card per day.
Signature-based transactions – Up to a combined total of $5,000 per card per day.



Fast and Easy Checkout with Visa Click to Pay

Visa makes it easy to complete your online purchases by eliminating the need to fill out lengthy checkout forms. Visa saves your billing, shipping, and credit card info so you don't have to enter them each time you make an online purchase.
Once enrolled in Click to Pay, simply enter your username and password whenever you see Visa's Click to Pay icon. This checkout option works with HVCU personal and business credit cards and debit cards, and is compatible with any device – whether computer, tablet, or phone.
To enjoy faster online shopping, enroll in Click to Pay today.

Visa Debit + Checking = More

Members who have an HVCU checking account and Visa Debit Card receive4:

12 free non-HVCU ATM transactions a month5
Free replacement Visa Debit Cards and Visa Credit Cards
25 free check copies annually
25 free statement copies annually
Free money orders
Free official checks
Free check protests / collections
Free guaranteed checks
Important Legal Disclosures & Information
---
Visa is a registered trademark of Visa International Service Association and used under license.
The tools and calculators on the HVCU website are provided for educational and illustrative purposes only. The accuracy of the calculations and their applicability to your financial circumstances are not guaranteed. HVCU does not provide tax, legal, accounting, financial, investment or other professional advice. The tools and calculators should not be used as a substitute for tax, legal, accounting, financial, investment or other professional advice. Your use of the tools or calculators does not assure the availability of, or your eligibility for, any specific product offered by HVCU or its affiliates. The terms and conditions of specific products may differ and affect the results obtained by using these tools and calculators. All financing is subject to credit approval. The default figures, amounts and information shown in the tools and calculators are hypothetical and may not be applicable to you. Please consult with qualified professionals to discuss your particular situation.
1Visa Debit Card reward points require signature-authorized transactions to earn points. PIN-based, point-of-sale, ATM transactions, cash withdrawals, and checks do not earn points.
2Points are not be earned or accumulated for cash advances, convenience checks, traveler's check purchases, finance charges, late fees, annual fees, over-limit fees, or transaction fees.
3Your account must be open and in good standing (not over-the-limit or past due) to earn or redeem points.
4Members with an account other than checking, or those with a checking account but no Visa Debit Card, will receive 25 check copies annually, 25 statement copies annually, and 12 ATM transactions at non-HVCU ATMs monthly. Business and club/organization accounts do not qualify for these benefits.
5ATM owner may assess a surcharge.