Visa® Platinum Rewards* Credit Card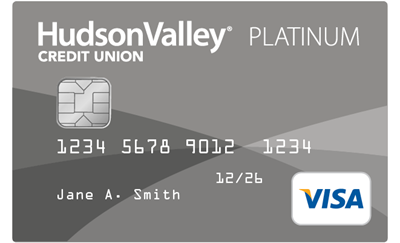 Earn 12,000 bonus points with a new Visa Platinum Rewards card1
$0 annual fee2
$0 balance transfer fees2

Do you currently have a Hudson Valley Credit Union Account?
Please note: You may open accounts with Hudson Valley Credit Union if you live, work, worship, volunteer or attend school in Albany, Columbia, Dutchess, Greene, Orange, Putnam, Rensselaer, Rockland, Saratoga, Schenectady, Ulster, or Westchester County. If you do not have an account with Hudson Valley Credit Union, you will be required to open a Primary savings account with $0.01 when your loan is funded. Our loan applications prompt you to open an account, as applicable to your situation.
View Important Rates and Disclosures
View HVCU Rewards! Bonus Point Program Rules
Also available as a Visa Secured Credit Card - ideal to build and strengthen your credit. Contact us for more details.
Visa's Zero Liability Policy3: If your card or card number is ever stolen, notify us promptly of unauthorized use so we can have the issue corrected quickly.


ID Navigator Powered by NortonLifeLockTM: Keep informed of potential threats to your identity. Tools included with your Visa card include: Dark Web Monitoring, Stolen Wallet Assist and One-Bureau Credit Monitoring Alerts. Confirm Card Eligibility.


Visa Secure: Protect your Visa Debit Card and Credit Card online purchases with Visa Secure. This free service confirms your identity when you make online purchases. Visa Secure is just one more way that HVCU is committed to the security of your account(s).


EMV Chip: The embedded microchip generates a one-time use code for each transaction you make. The chip prevents your card from being counterfeited or used by someone else if lost or stolen.


Contactless Card Technology: Tap your card at payment terminals for added security. Learn more about Contactless Payments.


Card Management: Get extra security through our Card Management and Rewards feature within Internet Banking and Mobile Banking, which allows you to block and unblock transactions on your Visa card at will - offering additional security that is completely self-service.

Rewards: Earn 1 point for every $1 spent.


Redeem: Points are redeemable for cash back credits, gift cards, merchandise, travel or charitable donations in the HVCU Rewards! program. Points can be combined with your HVCU Visa Debit Card rewards points.

Fast and Easy Checkout: Look for the Click to Pay icon when checking out to enjoy a secure online experience without having to fill out lengthy forms and remember a password. Enroll your Visa Platinum Rewards credit card in Click to Pay.


Online Services: Conveniently manage your account with a variety of online tools. Discover more about our Online Services.


Complimentary 24/7 Assistance Service: Access Visa's toll free number 1.800.847.2911 any time for support.


Extended Services: Including Travel and Emergency Services, Price Protection, Return Protection, and more.
Important Legal Disclosures & Information
---
Visa is a registered trademark of Visa International Service Association and used under license.
The tools and calculators on the HVCU website are provided for educational and illustrative purposes only. The accuracy of the calculations and their applicability to your financial circumstances are not guaranteed. HVCU does not provide tax, legal, accounting, financial, investment or other professional advice. The tools and calculators should not be used as a substitute for tax, legal, accounting, financial, investment or other professional advice. Your use of the tools or calculators does not assure the availability of, or your eligibility for, any specific product offered by HVCU or its affiliates. The terms and conditions of specific products may differ and affect the results obtained by using these tools and calculators. All financing is subject to credit approval. The default figures, amounts and information shown in the tools and calculators are hypothetical and may not be applicable to you. Please consult with qualified professionals to discuss your particular situation.
*Also available as a Visa Secured Credit Card.
1You will receive 12,000 bonus points if you make $3,000 or more signature-based purchases within the first three months of opening an HVCU Visa Platinum Rewards Credit Card. "Purchases" do not include balance transfers or cash advances. All other HVCU credit cards are excluded from this offer. After qualifying, please allow 4-6 weeks for bonus points to post to your account. Limit one bonus point offer per credit line. Your account must be open and in good standing (not over-the-limit or past due) to earn or redeem points.

2Foreign transaction fee is the exchange rate plus 1% of the transaction. Cash advance fee is 3% of the advanced amount. Please read the following disclosures that contain rate, fee, and other cost information related to HVCU credit cards.
3Visa's Zero Liability Policy covers U.S.-issued cards and does not apply to certain commercial card transactions or any transactions not processed by Visa. You must notify us immediately of any unauthorized use. For specific restrictions, limitations and other details, please contact us.
Disclosures & Pricing For Cards Currently Issued:
Variable Rate Credit Card Agreement and Truth in Lending Disclosure - Visa Platinum, Visa Platinum Rewards, Visa Signature, and Visa Platinum Cash Rewards
Visa Platinum, Visa Platinum Rewards, Visa Signature, and Visa Platinum Rewards Pricing