Wire Transfers for Businesses
Schedule Fedwire-formatted domestic wire transfers through Internet Banking or Mobile Banking.
Setting Up Business Users to Make Wire Transfers
Business users (authorized users) must be given access to Business Wires, and that access is granted when the following conditions are met:

Business users (authorized users) must be granted permission within the Create Domestic Wires permissions within Business Admin area.
Business users (authorized users) must also have access to the accounts that are used to send your organization's wire transfers. This can be set up through the Wire Funds Out From permissions within the Business Admin area.

If the above conditions are not set up, the business user will not be able to make wire transfers on behalf of your organization.

Setting Up Payees (Recipients) & Payment Methods
Business users who are assigned the Manage Payees permission can add, edit, and delete payees.
A payment method is a set of instructions related to a type of payment, whether ACH or wire transfer.

Wire Transfer Limits
Wire transfer limits pertain to the overall amount your business is able to send via wire transfer as well as the amount any individual business user in your organization is allowed to send without secondary authorization.
You set the limit your business users can send without secondary authorization, while HVCU sets the overall limit your business is able to send.
If you have multiple business users who are able to send wire transfers, their cumulative authorization amounts are counted against your business' overall limit.
HVCU's daily, weekly, and monthly limits are on a rolling schedule that is impacted by the delivery dates of any wire transfers you may have scheduled.
HVCU's limits are as follows:

Per Transaction: $250,000
Daily: $250,000
Weekly: $1,000,000
Monthly: $1,000,000

Making a Wire Transfer
Select your Payee
Select the Payee Account
Select a Funding Account
Select a Category for the wire transfer (optional)
Enter an Amount (you can click Show Limits to view your wire transfer limits)
Enter a Deliver By Date (the date the wire transfer is expected to settle). When using the calendar feature to select your date, our Wire Transfers feature checks for the earliest available Deliver By Date.
Enter any optional info in the Originator to Beneficiary Info field (symbols and special characters are not permitted)
Confirm your payment
Please note: Wire transfer submissions in a Needs Authorization state are not submitted for processing by HVCU until they have been authorized by another business user with sufficient permissions.
Please note: You are unable to edit a scheduled wire transfer. You must cancel the wire transfer via the Scheduled tab within Business Wires, and then submit a new request.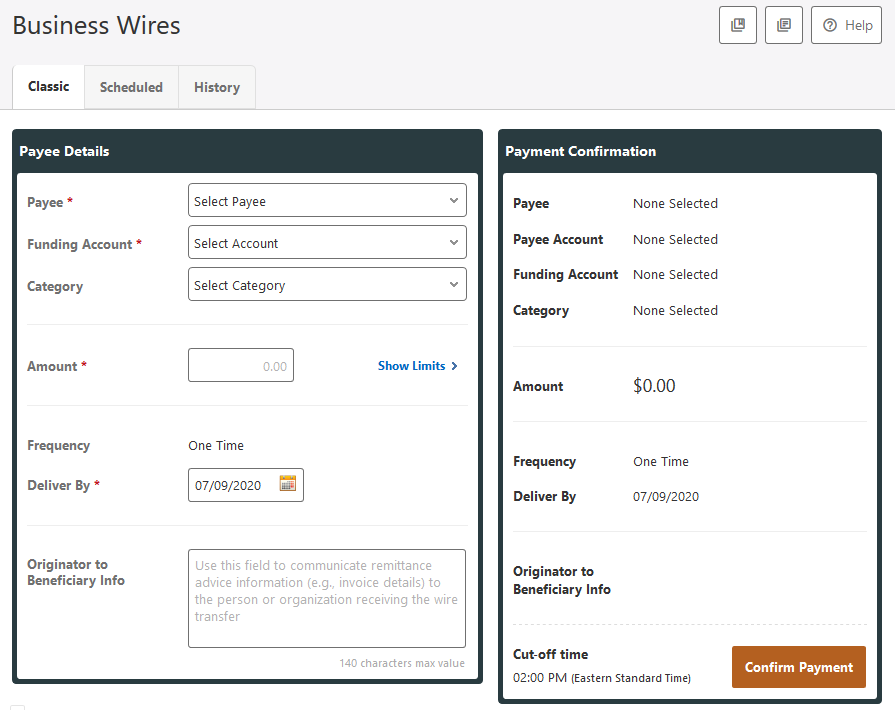 Wire Transfer Cutoff Times
Domestic wire transfer requests initiated online through Business Wires must be completed and received by 2:00 pm ET, Monday through Friday, for same-day processing. Domestic wire transfers initiated over the phone or in a branch must be completed and received by 4:00 pm ET, Monday through Friday, for same day processing. Requests received after those times will be processed the next business day.
*Note: International wire transfers cannot be completed within Business Wires. To complete an international wire transfer, please complete our Application for Wire Transfer form, call our Contact Center at 845.463.3011, or visit any of our branches. We do not accept wire instructions via email or live chat.
Authorizing Wire Transfer Requests
Due to enhanced fraud controls in our systems, business users are not able to authorize their own wire transfer requests. Instances where wire transfer requests require additional authorization from another business user (either Master User or authorized user with authorization permissions) in your organization include:

When the amount of a wire transfer exceeds the Authorized Limit of the business user submitting the wire transfer. Business users can view their limits via the Show Limits link.
When the amount of a wire transfer exceeds the Single Limit of your business.

In order for another business user to authorize wire transfer requests, they must have the appropriate permissions to authorize wire transfers and access to the funding account the wire transfer is being paid from.
Wire transfers in a Needs Authorization status will not be submitted to HVCU for processing until they have been authorized.
A business user can authorize or reject a wire transfer request in the Business Administration area.
Wire transfer requests that are not authorized prior to our cutoff times for the day are moved to an Expired status, and at that point a new wire transfer request must be submitted.


Wire Transfer Status
The following status' apply to wire transfer requests submitted through our online banking systems:
Canceled - A scheduled wire transfer request was canceled by a business user and was not sent for processing.
Expired - A scheduled wire transfer request that required authorization was not authorized prior to HVCU's wire cutoff time. Expired items can no longer be authorized, and must be rejected by the authorizing business user.
Rejected - A scheduled wire transfer that required authorization and was rejected by an authorizing business user or HVCU.
Succeeded - Wire transfer instructions were submitted to HVCU for processing.
Account Debit Failed - The debit to your account failed.
Scheduled - A wire is scheduled to be sent and awaiting review by HVCU.