eStatements
Reduce paper waste and clutter with electronic statements. Log into Internet Banking or Mobile Banking to get started.
How many times have you received your paper statement in the mail, put it aside, and not opened it until weeks or months later? So many of us check our accounts regularly online that we are well aware of our account balances before our paper statements arrive in the mail. If this describes you, consider enrolling in eStatements (eDocuments) as a companion to other electronic services you may use.
eStatements arrive several days before paper statements. You'll receive an email when your eStatement is ready for viewing.
View the last 15 months of statements in PDF format, or save statements to your computer for future use – either way you'll reduce your paper storage.
View images of cleared checks within your statements.
Go paperless and reduce your risk of identity theft. eStatements are secured within Internet Banking and Mobile Banking, so bad actors are unable to access your account information by intercepting your paper statements in the mail.
Additional Help for Managing eStatements
Once you enroll in eStatements, you will no longer receive paper statements in the mail. It is not possible to receive both eStatements and paper statements.
For tax purposes, print and retain your December 31 year-end member statement.
You can manage your eStatements enrollment directly within Internet Banking and Mobile Banking. When viewing your eDocuments, you'll see a profile icon that allows you to manage your profile and preferences. Click Preferences and then the pencil icon next to Delivery.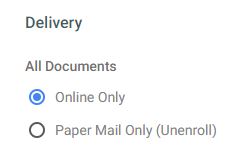 Financial Management Tools
Account aggregation functionality along with Savings Goals & Budgeting Tools within Internet Banking & Mobile Banking help you gain better insights into your financial health and how you are managing your money.