Business Visa® Platinum Rewards Credit Card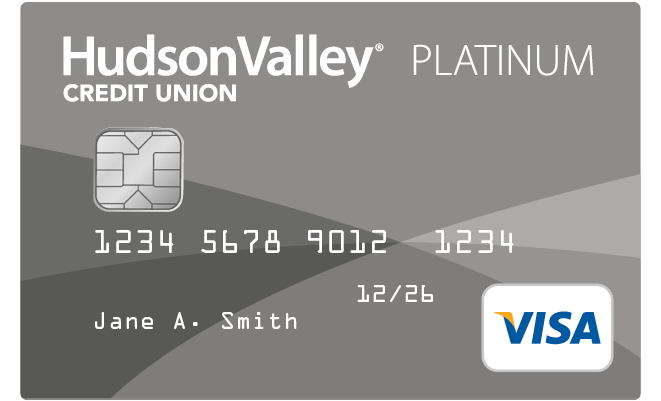 The flexibility to control both spending and payments according to your business needs. Purchase inventory and supplies, cover operating expenses, and have access to short-term financing with an HVCU Business Visa Platinum Rewards Credit Card.
Earn 1 point for every dollar you spend1
18.00% APR
$0 annual fee
$0 balance transfer fees
Up to $50,000 limit for qualified borrowers
Employee cards at no additional cost
Discounts where you shop most: Enroll in Visa SavingsEdge and start collecting credits.2
Visa's Zero Liability Policy3: If your card or card number is ever stolen, notify us promptly of unauthorized use so we can have the issue corrected quickly.
Visa Secure: Advanced security for online purchases. Look for the badge on participating merchant websites and protect your card against unauthorized use. Visa Secure is just one more way that HVCU is committed to the security of your account(s).
ID Navigator Powered by NortonLifeLockTM: Staying informed and knowing what to do when your identity is threatened can give you greater peace of mind. Confirm Card Eligibility.
EMV Chip: An embedded microchip which generates a one-time use code for each transaction you make. The chip prevents your card from being counterfeited or used by someone else if lost or stolen.
Contactless Card Technology: Your transactions are safe and confidential. Merchants will never receive any part of your specific credit or debit card information, such as your name, card number, or security code. Learn more about Contactless Payments.

Align Rewards With Your Business Needs: Apply cash back to statements or use for yourself or your business; stock up on office supplies - browse through top brand electronics and merchandise; Save on flights, hotels, car rentals, and more.
Redeem: You can redeem for cash back credits, gift cards, merchandise, travel, or charitable donations in the HVCU Rewards! program4.
Eligibility
Important information about opening a business account for a legal entity

Important Information About Opening a Business Account for a Legal Entity

New rules implemented under the Bank Secrecy Act help the government fight financial crimes, terrorism, and related national security threats. As a result, each time a business account or loan account, including credit cards, is established in the name of a legal entity, all financial institutions are required to obtain identifying information (name, address, date of birth, social security number) along with copies of corresponding ID (i.e. Driver's License) for:

Each individual that has beneficial ownership of 25% or more of the legal entity and;
One individual who has significant managerial control of the legal entity.

In order to provide you with the best member experience, please ensure all identifying information is available each time you establish a new account or apply for credit in the name of a legal entity. Certain business credit may require beneficial ownership information of less than 25%. HVCU complies with these requirements, which became effective April 11, 2018. Thank you.

Business looking to apply for an HVCU Business Visa Platinum Rewards credit card must be located in one of the 12-counties in HVCU's field of membership.
If you have been in operation for less than two years, you may qualify for a loan through the U.S. Small Business Administration (SBA). HVCU is a certified lender for the SBA. If you are ineligible for a credit card, we can discuss funding options through the SBA 7(a) Loan Guarantee Program or through an SBA Express Loan.
Important Legal Disclosures & Information
---
Visa is a registered trademark of Visa International Service Association and used under license.
The tools and calculators on the HVCU website are provided for educational and illustrative purposes only. The accuracy of the calculations and their applicability to your financial circumstances are not guaranteed. HVCU does not provide tax, legal, accounting, financial, investment or other professional advice. The tools and calculators should not be used as a substitute for tax, legal, accounting, financial, investment or other professional advice. Your use of the tools or calculators does not assure the availability of, or your eligibility for, any specific product offered by HVCU or its affiliates. The terms and conditions of specific products may differ and affect the results obtained by using these tools and calculators. All financing is subject to credit approval. The default figures, amounts and information shown in the tools and calculators are hypothetical and may not be applicable to you. Please consult with qualified professionals to discuss your particular situation.
1Your account must be open and in good standing (not over-the-limit or past due) to earn or redeem points.
2Visa SavingsEdge is an automated discount program offered by Visa U.S.A. Inc. to eligible businesses and their authorized cardholders that hold an eligible Visa Business card and whose enrollment in the program is accepted by Visa. Under the program, cardholders can receive discounts from participating merchants each time the cardholder uses an enrolled Visa Business card for qualifying purchases of goods or services pursuant to an active discount offered by the merchant and that transaction is processed or submitted through the Visa payment system. Visa may modify, restrict, limit or change the program in any way and at any time. Visa reserves the right at any time to suspend or cancel the program. Visa also reserves the right to suspend or cancel any cardholder's participation in the program. Enrolled cardholders will only receive discounts for qualifying purchases that are in full compliance with the terms of the applicable discount offer. Discount offers may be subject to additional terms and conditions. Discount offers may be removed from the program at any time and are subject to availability. Discount offers are also subject to any applicable law or regulation that may restrict or prohibit certain sales. Discounts will not appear on a cardholder's receipt at the point of sale. Discounts are provided in the form of credits posted to the cardholder's applicable Visa Business card account. Please visit Visa SavingsEdge for complete details on the program, including the program terms and conditions. © 2008-2023 Visa. All Rights Reserved.
3Visa's Zero Liability Policy covers U.S.-issued cards and does not apply to certain commercial card transactions or any transactions not processed by Visa. You must notify us immediately of any unauthorized use. For specific restrictions, limitations and other details, please contact us.
4View HVCU Rewards! Program Rules.