Health Savings Checking Accounts
Use a Health Savings Checking Account to help pay for medical expenses now and in the future.
If You Have a High Deductible Health Plan an HSA Checking Account Can Help Reduce Out-of-Pocket Expenses
HSA contributions, withdrawals for qualified medical expenses, and asset growth are all tax free.


You own and control the money in your HSA Checking Account. Funds can be used whenever you need them. Unused funds rollover from year-to-year, allowing you to save for future medical expenses. The money in your account is also yours to keep, regardless if you switch employers.


Taxable income is decreased by having an HSA, so fewer taxes need to be paid out.


Your accounts are insured by the National Credit Union Share Insurance Fund to at least $250,000. Visit mycreditunion.gov to learn more about your Share Insurance Coverage and to access resources including a Share Insurance estimator tool, publications, videos, and more.
HSA Checking Account Rate
Qualifying Expenses
Use your HSA Checking Account to pay tax-free for:
Conventional medical expenses like doctor visits, prescription medication, dental, and vision care.
Treatments not typically covered by insurance including acupuncture, orthodontics, chiropractic care, and fertility treatments.
Note: Over-the-counter medication cannot be purchased with HSA Checking Account funds without a doctor's prescription. Additionally, HSA Checking Account funds used to pay for non-medical purposes will be assessed a 20% tax penalty for the entire withdrawal.
HSA Checking Account Offers
No minimum balance, monthly service charge, or per check fees
Federal recurring payment, ACH, and payroll deposit-friendly
Free Visa® Debit Card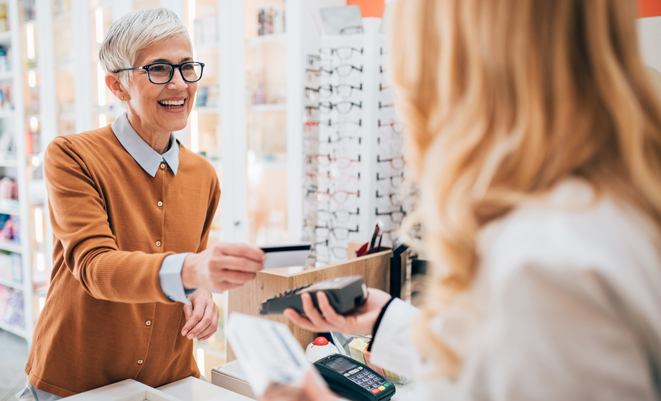 Who is Eligible?
Verify your eligibility with your insurance provider, but generally you are eligible for an HSA Checking Account if you are:
Covered by a High Deductible Health Plan (HDHP) that does not
have co-payments
Not covered under another medical plan that is not an HDHP
Not enrolled in Medicare
Not eligible to be claimed on another person's tax return
Maximum Annual Contribution
HSA contributions are based on whether you are contributing as an individual or for a family:
2023 Individual - $3,850
2023 Family - $7,750
2024 Individual - $4,150
2024 Family - $8,300

Individuals age 55 and older can also make additional catch up contributions of $1,000 per year.
To determine your maximum annual contribution allowance for your HSA Checking Account, you will need the information:
Medicare Filing Date (if applicable)
Full Disability Filing Date (if applicable)
HDHP Plan Type (single/family)
Family Annual (umbrella deductible)
Family Member Individual Annual (embedded) Deductible
Individual Annual Deductible
Number of Family Members Covered (if embedded deductible)
HDHP Policy Start Date
Your eligibility for an HSA is based on a number of factors and set forth by the IRS, and HVCU is not qualified to make such a determination. For more in-depth information on HSAs regarding eligibility, specific income and contribution limits, tax filing, forms, and a number of helpful tips, calculators and more, visit the IRS website. If you need assistance determining eligibility to open and contribute to an HSA, please consult your tax advisor.
Your Money Is Protected
Accounts at HVCU are Federally Insured for up to $250,000. Share insurance coverage is provided by the National Credit Union Administration (NCUA), an independent government agency that charters, regulates and insures federal credit unions. Visit mycreditunion.gov to learn more about your Share Insurance Coverage.