How Much Money Do I Need to Save for a Home?
Home Financing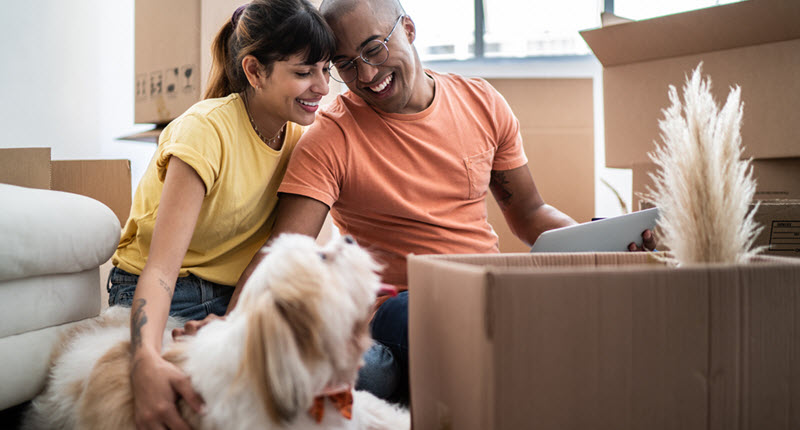 The prospect of buying your first home can be exciting, but thinking about all the money you need to save can be downright daunting. From down payments and closing costs to moving expenses, new furniture, and everything in between—there's a lot to consider.
Still, it doesn't have to be so overwhelming. By having a better understanding of what expenses you need to prepare for (and how much you need to save), you can create a financial plan for buying your first home and close with confidence!
The Basics
Let's start with some of the more obvious costs you need to cover when buying a home. This includes the down payment that will be required for your mortgage. This is the amount you'll be expected to pay out of your own pocket on the home you're buying.
Your exact down payment amount will depend on the
type of mortgage
you're taking. For example:
VA loans – may offer a 0% down payment for some borrowers
FHA loan – typically requires a minimum 3.5% down payment
Conventional loan – your down payment at closing could be anywhere from 3% - 20% of your home's sale price.
Other expenses to consider are the closing costs (attorney fees and additional costs required to close the loan) and expenses that need to be prepaid (such as real estate taxes and home insurance). Closing costs can vary, so please be sure to check with an HVCU Mortgage Loan Officer for estimated amount.
Don't Forget About Inspections, Appraisals, and Testing
Your down payment and closing costs will undoubtedly make up a large portion of your new home budget. However, there are some other costs you'll want to plan for that can add up quickly.
Consider, for example, appraisal and inspection costs on your new home. You'll definitely want to have a home inspection done to alert you to any underlying issues before you buy. This could save you a lot of money in the long run by uncovering costly major repairs. A typical professional inspection can cost $300 or more, depending on where you're looking to buy.
In addition to a basic home inspection, there are specialized tests you may want to have done before you commit to buying a property, such as:
Of course, costs may vary by region. Some searching in Google should help you determine costs in your area, and you could use sites like
homeadvisor.com
as a starting point.
Most mortgage lenders require an appraisal to be done on a property before finalizing a loan. This ensures that the property is worth at least what your mortgage provider is lending you. Buyers are typically responsible for the costs associated with an appraisal, which usually
ranges between about $450 and $550
. Remember – appraisal prices are subject to change, and may vary from region to region or from lender to lender.
What About Moving Costs?
Even after you've closed on your new home, there may still be additional expenses. If you'll be hiring professional movers to assist with your relocation, you'll need to budget accordingly. The cost of moving services depends greatly on the distance of your move, the amount of furniture/boxes you need to move, and the specific date of your move.
The best way to plan for moving costs is to get a few quotes from reputable moving companies and compare them carefully. In general, however, you can expect to spend
between $1,000 and $2,000 for professional movers
. This may not include a gratuity for the crew, so be sure to factor in tips as well. Depending on your area, a standard tip could range from 5-20% of your total bill.
Even if you don't plan on hiring professional movers, you may still need to budget for some moving expenses such as:
Renting a moving truck/van (about $130 for a local move)
Supplies like boxes, packing tape, etc. ($100-$300)
Any unpaid time you'll be taking off work to move (variable)
Furniture, Lawn Equipment, and Other Miscellaneous Items
If you'll need to purchase new furniture for your home after moving in, you'll want to budget for this as well. This is especially true if you'll be moving into a larger home where you need to furnish additional rooms. If this is your first home, you may also need to purchase lawn care equipment like a lawn mower, weed eater, or leaf blower.
Make Sure You Have an Emergency Fund
With all these expenses in mind, you can expect to tap into your savings account when you buy your first home. Still, it is important to keep in mind that
unexpected events
can occur at any time, so plan to keep an emergency reserve set aside at all times. Ideally, this fund should cover 6-12 months' worth of your basic expenses (mortgage payments, utilities, groceries, etc.) if the need arises. General home maintenance will now be an expense as well, so be sure to revise your budget to include things like snow removal, general renovations, or appliance repairs.

The Bottom Line on Saving for a Home
There are a lot of costs to plan for when buying your first home, but with a little preparation and research, you can avoid unexpected surprises. From there, you can stress less about finances and focus on getting settled in to enjoy your new home!
Looking for more guidance as you navigate the home-buying process? Hudson Valley Credit Union is here to help!
Reach out to our team
today for information on our mortgage offerings and more.
Your Home is Your Safe Haven
It's one of the most significant purchases in your life. So much more than just concrete, bricks, and wood planks. It's comfort and familiarity. A place where families gather and memories are made.
Homeowners insurance ensures that you, your family and belongings are safeguarded against accidents, severe weather, theft, fire, and more. It can provide assurance that a bad day won't get any worse. Your home insurance policy can take care of things like a night at a hotel or covered losses that result in expensive home repairs, replacements, and related claim expenses.
A licensed HVCU Insurance Services agent can walk you through the quote process step-by-step to ensure that you and your family are properly covered. Start your homeowners quote or call us at 845.463.5646.
Insurance products: Are not NCUA/NCUSIF insured | Are not obligations of HVCU | Are not guaranteed by HVCU
Related Resources
Borrowing

A Practical Guide to Home Equity Financing

We've compiled all of the information you need to know about home equity financing -- a list of important terminology, a comparison of home equity options, and more.

Read More

HVCU Homebuyer Guide eBook

Home Financing

Homebuyer Guide

No matter where you are in your journey - dreaming, saving, or house hunting - we're your partner every step of the way.

Read More

wheelbarrow on a green lawn

Saving & Budgeting

10 Ways to Save on Landscaping

Here are 10 creative ways to save, so you can have well-tended landscaping within your budget.

Read More