FAQs for Personal Accounts
At HVCU, you have a member account number (a total of 10 digits long, usually with leading zeros) and a Share ID or Loan ID number associated with each of your accounts. For example, your member account number may be 0000123456. If you have a checking account, that Share ID is 0200. Your monthly statement lists your accounts by Account ID, e.g. Savings 0000, Classic Checking 0200, etc.
When setting up electronic transactions to or from a checking, savings, or tiered money market account, please note the specific ACH/MICR number for each of your accounts as shown within Internet Banking or Mobile Banking. To find this number, click a specific account and then view the info under the Account Details area. You'll also need our routing number, which is 221979363.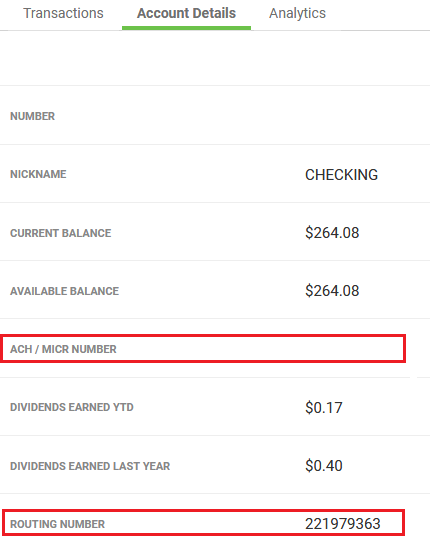 You can add a joint owner or beneficiary to an existing account. Please complete the applicable form below:
A joint owner cannot be removed from an account, however, as the primary account holder you have the option to close the account and open another account solely under your name / member account number. The joint owner can open their own account under a different member account number.
Existing members can open savings, checking, tiered money market, and select certificate accounts online by logging on to Internet Banking or Mobile Banking and selecting New Acct/Loan App from the Accounts & Loans menu. Savings, checking, tiered money market, and certificate accounts can be opened 24 hours a day, seven days a week. If you open these accounts outside of normal business hours, they will appear in your accounts list the following business day. You can open new accounts with a joint owner.
The difference may be due to pending Visa Debit Card transactions that have been authorized, but have not yet posted to your account. The difference may also be due to a check hold from a recent check deposit or an ATM deposit over $225.
When you deposit cash or a check in an ATM, $200 is available immediately. The remainder of the deposit is on hold and will be available after the second business day in accordance with our funds availability policy.
Exceptions to the Above
We reserve the right to extend the hold periods described above up to thirty days after the normal availability, unless otherwise stated, or to impose a hold on deposits normally available immediately, or impose withdrawal restrictions, under any of the following circumstances:
Your account has been overdrawn repeatedly in the last six months;
There is an emergency, such as a failure of communications or computer equipment;
A check is redeposited that has been returned unpaid;
We have reason to believe a check being deposited will not be paid;
You have been a member for 30 days or less, in which case a hold may be extended up to ten days after normal availability.
If we do exercise this right, we will inform you in writing or at the time the deposit or withdrawal is made and let me know when the funds will be available.
A POS transaction or Point-of-Sale transaction is one where you authorize funds to be immediately withdrawn from your checking account. For example, if you are at the gas station or the supermarket, and you enter your PIN to make your purchase, you are making a Point-of-Sale transaction. In contrast, debit transactions are when you choose the "credit" option at merchants and sign for your purchases rather than entering your PIN.
Privilege Pay can help you avoid expensive fees for insufficient funds. It is designed to be used if you unintentionally do not have enough funds in either your checking account or through other overdraft sources. A fee is assessed for each Privilege Pay item covered. In the case of Visa Debit Card and ATM card transactions, you will need to register (opt-in) for overdraft protection services in order for Privilege Pay to cover the transactions. There is a $500 maximum limit, including Privilege Pay item fees. Please see our Fee Schedule for current fee information.
Replacement Visa Debit and credit cards are mailed approximately two weeks prior to the beginning of your expiration month as it is noted on your card. This is to provide adequate time for the card to arrive and ensure that it is activated prior to the expiration.
You may request a new card by us at 845.463.3011. Additionally, if you are requesting a new Visa Debit Card, you can visit any of our branches to have the card instantly issued to you.
For VISA credit cards, please allow 7-10 business days for receipt of card.
For both cards, your PIN code will be mailed separately and will take an additional 3-5 days for delivery. However, in the case of your Visa Debit Card PIN, you may visit a branch to have it set.
1099-INT forms are mailed to you if you meet the minimum reporting requirement of $10 or more in dividends. You can also find these forms within the Electronic Documents feature in Internet Banking and Mobile Banking. The form will be listed with your documents, such as eStatements. If you are not an Electronic Documents user, you will have the opportunity to enroll.
You do not need to give us a call about your travel dates and can inform us of your plans securely via Internet Banking or Mobile Banking. Once logged in, select the My Travel Dates feature from the Card Mgmt & Acct Monitoring menu. Let us know where you'll be traveling, the dates, and what debit and credit cards you'll be using.
It's quick and easy to update your personal information through Internet Banking and Mobile Banking. Once logged in, you can update your address, phone number, and email address from within Settings.
An account must be brought to a positive balance completely within 30 days of going into a negative state. Please note: We can sweep any account for payment once a balance goes negative.